Learn Godot Making a Fun Pirate Trading Game
Add to wishlist
Added to wishlist
Removed from wishlist
0
Add to compare
UPDATED JULY 3rd, 2019 – Load Game Data from CSV Files
UPDATED JUNE 12th, 2019 – NEW SOUND & ANIMATION LECTURES!
NOTE: This course currently requires GoDot 3.06. You can find the download on the GoDot website. Unfortunately GoDot 3.1 has some significant bugs in static functions and how preloads are handled compared to 3.06. I'm actively working on a new set of lectures and a design that works around the problems with the 3.1 release. There are articles on this topic but unfortunately Udemy will not let me link to it here.
So for now if you do this course in GoDot 3.1 expect to do some refactoring of the design until the static function bugs are fixed or there is a reasonable work around that doesn't involved new classes and patterns.
THIS COURSE GETS YOU FROM BEGINNER TO ADVANCED AS FAST AS POSSIBLE
This was designed to be a fast based course. Instead of bumping up the hours of the course, this course is designed to get you into advanced topics quickly. We start out with very beginning topics so even a new programmer can use this course, but we waste no time getting into advanced Godot topics. I'm aware that many students search for courses with lots of hours in the hopes of equating it to more material. You will often find those courses will spend exhaustive time on basics and editor tools that are available in the community or on YouTube.
Instructor Details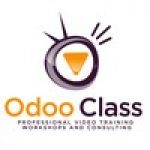 Odoo Class Videos
Expert Business Application & Game Development Courses
Votes: 0
Courses : 9
Founder Greg Moss has been a business application and game developer for more than 30 years. Unlike the typical boring reference courses that simply walk you through options and commands like reading a dictionary, Greg produces fun courses in which either learn the tools by creating exciting games or you learn by using the tools to solve real world problems. Greg focuses on development solutions and design patterns that get the job done! First Class Game Studios Greg is the founder of First Class Game Studios, fun game studio that led off with a cutting edge highly experimental game project NeuroMage, a game that combines exciting spell-casting duels, gorgeous imagery, and cutting-edge biosensor technology. Using NeuroSky's Mindwave - a research-grade wireless EEG headset - Greg created a game in which you learn to harness the power of your own mind to build an arsenal of powerful spells and defeat your opponent. Greg has taken what he has learned through many years of business and game design architecture and put into making fun Udemy courses. Odoo Class Videos Odoo Class is recognized as the #1 resource for professional Odoo videos. Hundreds of Odoo Developers, Odoo Partners, and Odoo integrators have subscribed to Odoo Class to further their knowledge of Odoo. Now we are taking what we have learned in Odoo training and making the best Odoo videos and bringing our best courses to Udemy students. Starting with our first video products Odoo 8 Essentials and Ubuntu Workshop OdooClass has now built a library of more than 200 professional Odoo videos. Greg is also author of Working With Odoo. Available on Amazon. We are excited to bring these latest courses to Udemy. Here is what some Odoo Class subscribers have said about our Odoo videos: I am completely new to Linux, Python, Postgres and everything Odoo. Odooclass videos have been pivotal in my learning process and in my opinion is the best resource out there for beginners especially for those like me migrating from an entirely different development background. The videos are very clear and relevant. I would highly recommend them to anyone new to Odoo. - Peter S. I just wanted to say that the videos are great and have really opened my eyes to the capabilities with Odoo. - Joey K. First off I want to comment on all of the quality video editions you have recently added to your library. They have been tremendously helpful and I have been recommending your service to many people. - John P. I recommend Odoo Class for anyone want to learn odoo, they have a very high quality videos for both functional and technical - Vyas S.
Specification:
Learn Godot Making a Fun Pirate Trading Game
| | |
| --- | --- |
| Duration | 4.5 hours |
| Year | 2019 |
| Level | All |
| Certificate | Yes |
| Quizzes | No |
10 reviews for
Learn Godot Making a Fun Pirate Trading Game
Learn Godot Making a Fun Pirate Trading Game