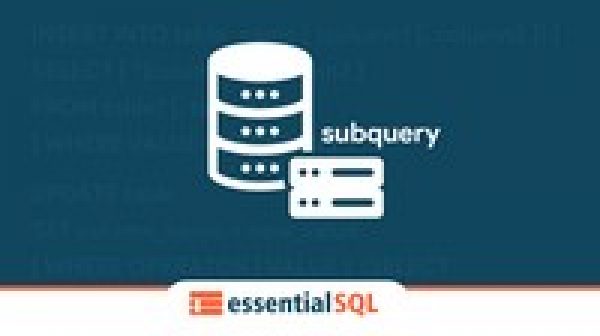 Subquery Magic: Write awesome SQL, Master T-SQL Sub Queries

Kris Wenzel
45
SQL
Udemy
Add to wishlist
Added to wishlist
Removed from wishlist
0
Add to compare
Product is rated as #37 in category SQL
In this Course you will Learn to:
Know and understand subqueries
Identify subqueries in SQL
Use subqueries in your select statement
Use subqueries in the WHERE clause with EXISTS and IN
Use subqueries with SUM, MAX and other Aggregate functions in GROUP BY and HAVING
Write correlated subqueries (this is a big deal)
Nothing is worse than
Being excited to learn something new but not knowing where to start.
Wasting time learning the wrong features.
Being overwhelmed with options and not know which to use.
Imagine Having…
Knowledge – Knowing how to quickly use subqueries to take your SQL to the next level.
Confidence – Feeling good that you re on the right track.
Accomplishment – Having a sense of accomplishment that you've learned something most can not.
Fun – Actually having fun learning SQL subqueries!
By the time you ve completed this course you ll have an appreciation of subqueries, overcome your fear, and able to write correlated queries to make your SQL more robust.
Instructor Details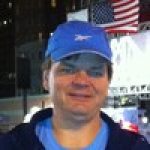 Kris Wenzel
Let me teach you SQL using simple to understand English.
Votes: 0
Courses : 4
Hello my name is Kris. I m here because I am passionate about helping non-techie people to overcome their fear of learning SQL. Let Me Help you Get Started on the Right Foot! I know what it is like to not know where to start or whether the time spent learning is worth the effort. That is why I am here to help you to: Get started in an easy to follow step-by-step manner. Use your time wisely so you focus on what is important to learn to get the most value from your time. Answer your questions. Really! Just post a comment and I ll respond. I m here to help. It wasn t long ago that I was helping a colleague with some reporting. She didn t know where to start and soon got overwhelmed and lost as she didn t know SQL. I felt really bad, as she was under pressure to get some summary information to her boss, the built-in reports were falling short, and to make them better would require her to know SQL. At that time that seemed impossible! It in dawned on me, it doesn t have to be that way. Then I discovered a way for anyone with the desire to easily learn SQL. I worked with my co-worker, started to teach her what I learned and soon she was able to write reports and answer her boss questions without getting stressed or ploughing hours into manipulating data in Excel. It hasn t always been easy. Sometimes the information seems abstract or too conceptual. In this case I ve found out that a visual explanation is best. I really like to use diagrams or videos to explain hard-to-grasp ideas. Having video, pictures, and text really help to reinforce the point and enable learning. I know that you want to: be confident writing SQL understand more complicated topics such as joins and sub-queries become fluent in database terms and concepts understand query optimization and performance tuning start your path to become a DBA Through my conversation style, easy to understand lessons, videos, and info-graphics, I ll help you to do this an more. It will take action on your part, but I'm here to help you along the way! So How Did I Become Such A Geek? My journey to SQL starts when back in 1979 when I was in a freshman in High School. Back then I was really interested in computers and joined a Computer Explorer s post hosted by Dow Chemical. We met once a week at the office and got to work on their mini-computers. It was awesome! I learned how to program and really took an interest to it. So much so, that I took my savings and bought a early home computer (Radio Shack TRS-80 Model I). It didn t do much, as it only had 16K of memory, but it was enough for me to learn programming. We ll that was over thirty years ago and I ve loved them ever since. In college I studied computer engineering at University of Michigan (go blue!). I got to learn hardware and software design. One class I really found fascinating was my database theory class. We studied relational database theory and it was great. Before this class I didn t know about databases and every time we wanted to work with data, we would have to write huge programs to do so. Once I learned about databases I realize how powerful they were. We ll I kept at it and now some twenty five years later, I m ready to share my experiences with you.
Specification:
Subquery Magic: Write awesome SQL, Master T-SQL Sub Queries
| | |
| --- | --- |
| Duration | 3 hours |
| Year | 2020 |
| Level | Beginner |
| Certificate | Yes |
| Quizzes | Yes |
17 reviews for
Subquery Magic: Write awesome SQL, Master T-SQL Sub Queries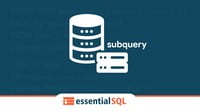 | | |
| --- | --- |
| Price | $10.99 |
| Provider | |
| Duration | 3 hours |
| Year | 2020 |
| Level | Beginner |
| Language | English |
| Certificate | Yes |
| Quizzes | Yes |
Subquery Magic: Write awesome SQL, Master T-SQL Sub Queries