Create Excel apps with MySQL & Virtual Forms & Excel VBA

Davor Geci
11
Excel
Add to wishlist
Added to wishlist
Removed from wishlist
1
Add to compare
Product is rated as #6 in category Excel
Microsoft Excel & Microsoft Power BI are the most popular and used tools for analyzing and visualizing data.
BUT, Microsoft Excel is not created for gathering data, especially in gathering relational data like master–detail structures.
One basic, simple Excel example. You want to gather (or track) Orders in Excel and then for this Orders you want to track Order Details and, for example, Order Payments and all that using Excel.
Not to mention, to do this in a multi–user environment also in Excel
Boy, .., You will have a tough time to do this with Excel, because Excel is simply not created for challenges like this, to gather master–detail data and also in a multi–user environment within the normal Excel environment.
But in this course Create Excel VBA apps using MySQL database & Virtual Forms , You will learn how you can do this by using Excel VBA as a front end and MySQL database as a backend, whether the MySQL database is on your local machine, your local network, or on the web server. We will do this with help of a small tool called Virtual Forms.
Hello,
I m Davor Geci the CEO and the Lead Developer of WinPIS, the company that s behind a popular tool that brings to Excel what Access developers are having for decades.
Instructor Details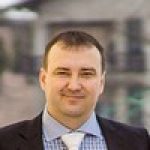 Davor Geci
CEO @ WinPIS, Programmer | Excel VBA Access VB SQL Databases
Votes: 1
Courses : 1
Davor is a veteran programmer with 20 years of being a professional programmer and 15 years of building companies as CEO or helping others as an HR consultant in employee recruitment. Specialties: VB, VBA, Error Handling, Google Analytics, Azure Application Insights, SQL, Databases, Excel, Access, MySQL, MSSQL. Currently: CEO & Founder at WinPIS Recent projects: Virtual Forms for Microsoft Excel VBA (NEW UserForms for Excel VBA) VBA Telemetry (connect VBA & Google Analytics or (and) Microsoft Azure Application Insights) Recent projects in detail: Virtual Forms for MS Excel VBA: Simple but powerful Userform control for Excel VBA so that anyone can use it, even without a single line of Excel VBA code! Create few sheets in Excel Workbook, or create few tables in the database like MySQL. Tell the Virtual Form Designer which fields you want that UserControl will use. And you re done. ##################################### VBA Telemetry: Log & Track Events, Metrics & Errors from VBA (Excel, Access, Word, Powerpoint, ...) projects in real-time using Google Analytics or (and) Microsoft Azure Application Insights. VBA TELEMETRY: Allows us to log and track events, metrics and errors from VBA in real-time. Track usage of your VBA (Excel workbooks, Access projects) from around the world. Example: You have created a killing Microsoft Excel Workbook or Access project. Then you distribute this Excel Workbook or Access project to your users or customers. But how do you know if there are any errors, what parts of your VBA project is used the most, which function, routine or part of the code is executed faster or slower on your users or customers computers, or is it used at all? Now you can, with help from VBA Telemetry and Google Analytics or (and) Microsoft Azure Application Insights. IN A NUTSHELL: Add online Error Tracking, Usage Tracking of your Excel Workbooks, Access projects or any VBA project, from around the world.
Specification:
Create Excel apps with MySQL & Virtual Forms & Excel VBA
| | |
| --- | --- |
| Duration | 8.5 hours |
| Year | 2020 |
| Level | Intermediate |
| Certificate | Yes |
| Quizzes | Yes |
13 reviews for
Create Excel apps with MySQL & Virtual Forms & Excel VBA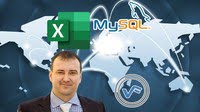 | | |
| --- | --- |
| Price | $12.99 |
| Provider | |
| Duration | 8.5 hours |
| Year | 2020 |
| Level | Intermediate |
| Language | English |
| Certificate | Yes |
| Quizzes | Yes |
Create Excel apps with MySQL & Virtual Forms & Excel VBA