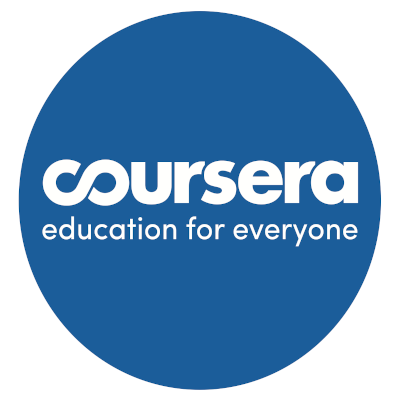 1. What is Coursera?
Coursera is an American online learning platform founded in 2012 by two Stanford computer science professors with a vision to provide anyone, anywhere with access to the world's best education. Professors Daphne Koller and Andrew Ng put their courses online for anyone to take – and taught more learners in a few months than they could over an entire lifetime in the classroom. Today, Coursera has expanded to reach 53 million people and 2,300 businesses around the world.
Coursera courses last approximately four to ten weeks, with one to two hours of video lectures a week. These courses provide quizzes, weekly exercises, peer-graded assignments, and sometimes a final project or exam. Courses are also provided on-demand, in which case users can take their time in completing the course with all of the material available at once. On Coursera, you can find online courses, Specializations, certificates and degrees from 200 world-class universities and companies, including Yale, University of Pennsylvania, Google, IBM, and more.
2. How can I sign up for Coursera?
It is very easy to sign up for Coursera. You have as of today, 4 options:
Sign up with Facebook
Sign up with Apple
Sign up using your e-mail
Sign up with your organization(only for companies)
Click on "Join for Free".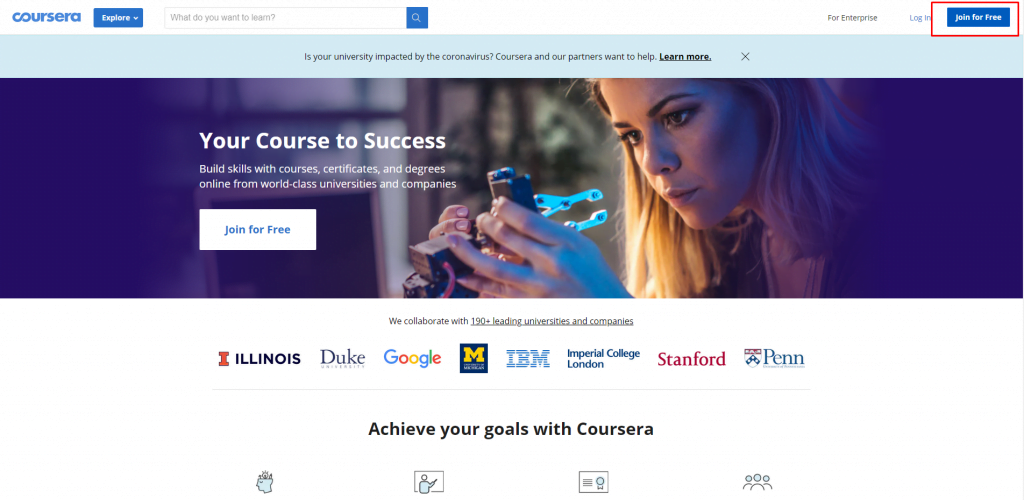 Then a pop-up will be shown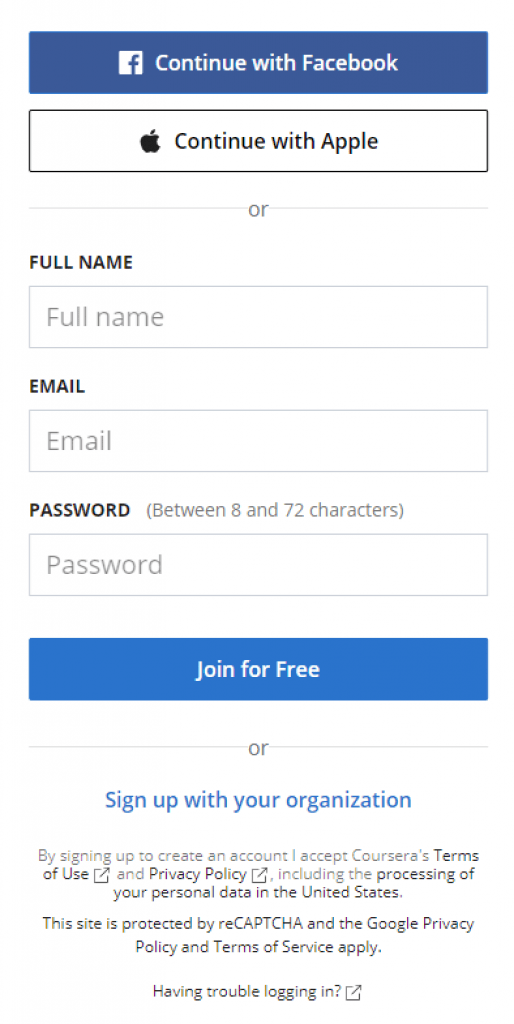 Choose the option that suits you, fill in the forms and you will be ready.
3. Does Coursera offer a Mobile App?
Yes, Coursera provides mobile apps for both Android and iOs
Android app: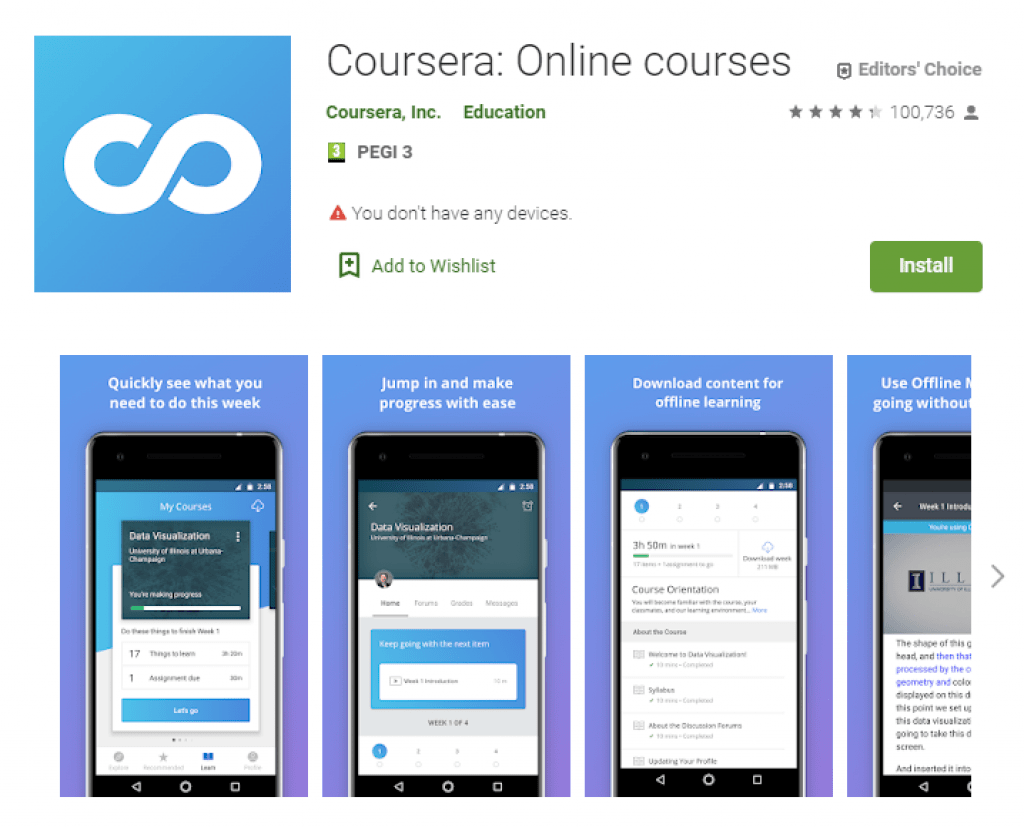 iOS app: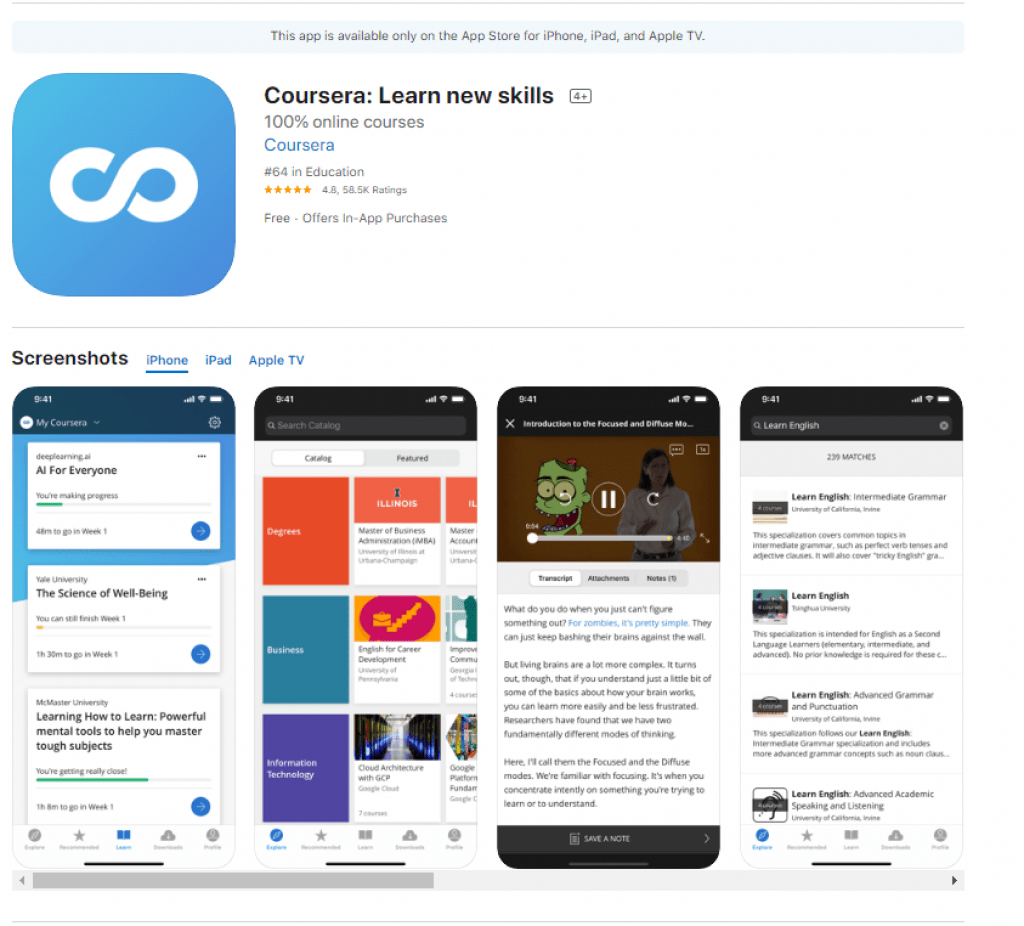 4. What is Coursera Plus and how does it work?
4.1 Coursera Plus Overview
Coursera Plus is a premium subscription plan. Coursera Plus gives you unlimited access to 3,000+ courses, Specializations, and Professional Certificates. Most of the courses are included and are taught by top instructors from leading universities and companies like Duke, Johns Hopkins University, Google Cloud, and more. Coursera Plus does not include Bachelor's, Master's Degrees and MasterTrack™ Certificates.
4.2 Coursera Plus cost and refund policy
Coursera plus costs $399 per year in the US. Should you decide it is not right for you, to get a full refund, visit your My Purchases page within 14 days of your payment to submit a refund request. Your refund will be processed without any further questions. For additional information, see the refund policy on the Learner Help Center. Any certificates earned within the 14 days will be revoked if you decide to refund within that period.
5. What are Coursera specializations?
5.1 Specialization
A Coursera Specialization is a series of related courses designed to help you master a specific topic.
Some shorter Specializations include as few as three courses and only take a few months to finish. Longer Specializations can include ten or more courses and take up to a year.
You can begin a Specialization by enrolling in the entire specialization or a single course in the Specialization.
5.2 Specialization Certificates
When you finish and pay for a Specialization, you get a Specialization Certificate. You'll also get Course Certificates for each course you complete in a Specialization.
6. Are Coursera's Courses for limited access
Access to a Course after its completion or after it has ended is not guaranteed. Courses might be taken down so as the course can be updated. To be sure, download any content that you would like to keep when the course is done.
7. Are Coursera Courses Free?
Coursera offers both free and paid courses. Most of the courses are free if you just want to access the course materials. You can find the best paid and free courses on Coursera here.
8. How can I audit courses for free?
In case you aren't interested in gaining a certificate, coursera allows you to audit a lot of courses.
There are two types of courses which are auditable:
Courses you can audit for free and you will have access to all materials except for graded items. An example is the following: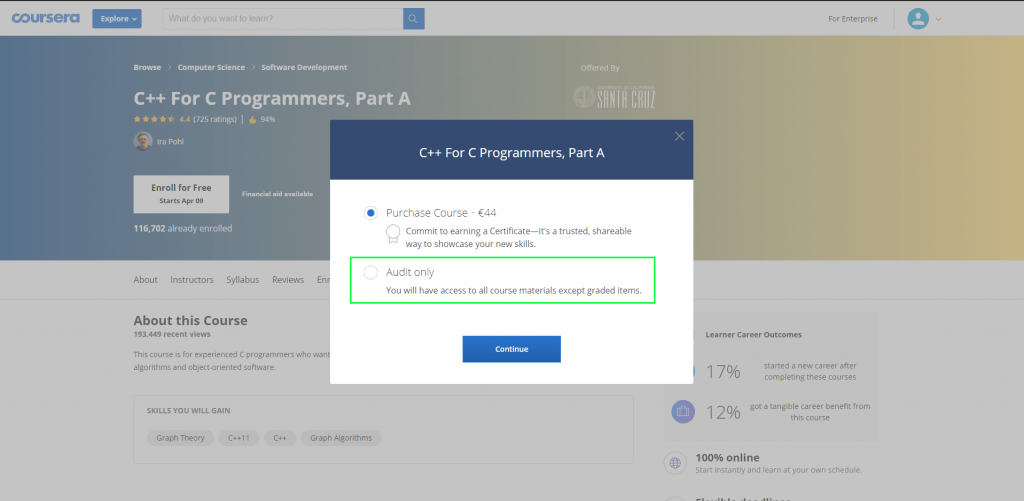 After you pressed the enroll for free button, a pop-up will be shown and you will be able to audit it for free.
2. Courses which offer 7-day free trial and you can audit them for free too, you just have to press the link in the bottom left corner of the pop-up, as shown below: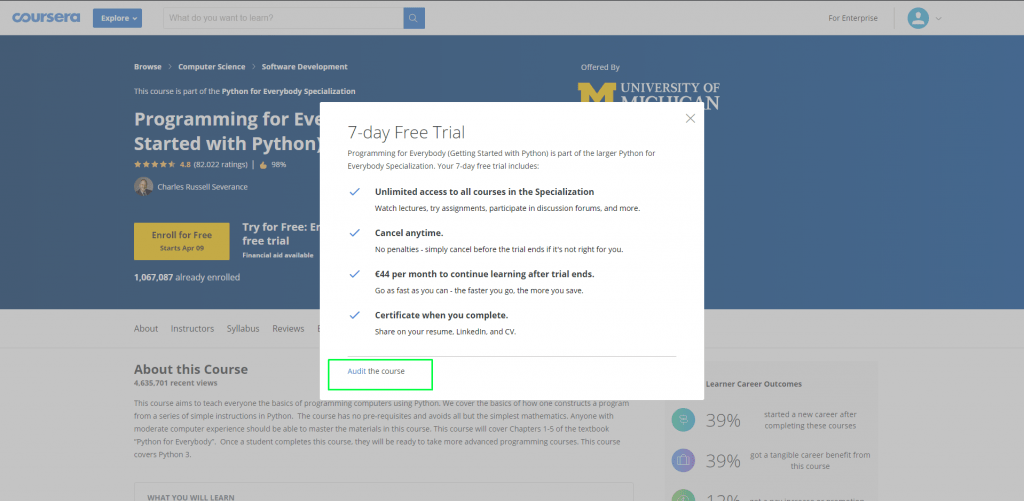 Should you want to audit a specialization for free, e.g. Python Specialization, you can scroll to the bottom and find the individual courses. Click on the course that interests you and it might be available for audit (Type 1 or 2 as described above)
9. Coursera Pricing
9.1 Audit only
Most of the Courses are available to audit for free if you do not want to pursue a certificate.
9.2 Courses with Certificates
In Coursera, certificates always require a fee. The price for a course varies and it will only be shown to a logged-in user.
9.3 Specializations
Specialization's courses most of the times will be available to audit for free. In case you would like to get a certificate for a specific specialization, usually, there is a 7-day free trial, after which you will be charged a monthly fee. The price of a Specialization varies between US$39-79 per month.
9.4 Coursera Plus
Coursera Plus has already been analyzed in section 4.
10. Coursera Refund Policy
Coursera's refund policy for after free trial period and courses is described below. For more information, visit Refund Policies.
10.1 Refunds after free trials
If you make a payment after the free trial ends, you cannot get a refund.
10.2 Course refund
Most of the times, should you pay for a Course Certificate, you can apply for a refund within 14 days after your payment.
If you pay for a Course Certificate when pre-enrolling for a course that isn't available yet, your two-week refund period begins on the start date of the course.
Once you have earned your Course Certificate, you cannot apply for a refund, even if you earn it before the two-week refund period.
11. What is financial aid?
Coursera provides financial aid for those who cannot afford to pay for a certificate. Learners with Financial Aid or Scholarships in a course will be able to access all of the course content and complete all work required to earn a Course Certificate.
To receive Coursera Financial Aid or a Scholarship, you'll need to:
Fill out an application that includes information about your educational background, career goals, and financial circumstances
Commit to abiding by Coursera's Honor Code and our Code of Conduct
For more information, visit Apply for Financial Aid or a Scholarship
12. Does Coursera provide certificates?
Coursera offers certificates but with a fee. To get a free certificate after you have completed a course, financial aid application must be accepted.
13. Does Coursera provide BSc and/or MSc programs?
Yes, Coursera offers both Bachelor's and Master's Degrees, which can be attended online. For more information, visit Computer Science and Engineering Degrees.
14. Coursera certificates recognition
There is much debate surrounding the question "Will a MOOC certificate give me an advantage on the job market?". Today, recruiters and employers do not fully recognize a MOOC on the CV and the traditional degree is a considered a much more valued asset, however, the MOOC recognition is getting higher as the time passes by, and this can be proven by the fact that Coursera for Business counts over 500 corporate customers including some notable names, such as L'Oréal, Boston Consulting Group, and AXA.[1]
One of the commonly discussed disadvantages of MOOCs is the high possibility for a learner to cheat and as a result, the knowledge acquired by this course cannot be verified.
On the other hand, a MOOC certificate has a lot of advantages. A person who has attended online courses can be characterized as self-motivated, dedicated and philomath, traits that are considered essential by employers.
At the end of the day, the only thing that matters is what skills you actually have acquired and how you can relate them to the certificates that you present in your CV. Being able to show your skills in action is far more valuable than any certificate that you might have and that is what the employers will value the most.
Sources:
[1] How Employers View MOOC Certificates in 2018
[2] Coursera