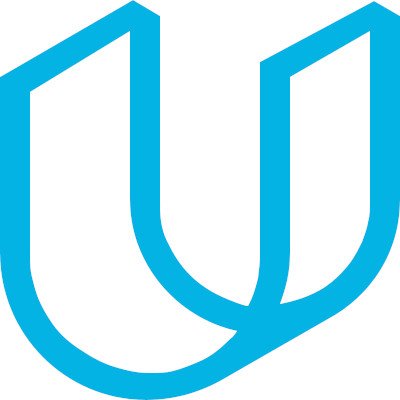 Here is a Udacity Provider guide that will answer some questions about Udacity Courses will introduce you to the beautiful world of Udacity.
1. What is Udacity?
Udacity is a for-profit educational organization founded by Sebastian Thrun, David Stavens, and Mike Sokolsky offering massive open online courses. The origin of the name Udacity comes from the company's desire to be "audacious for you, the student". While it originally focused on offering university-style courses, it now focuses more on vocational courses for professionals. Udacity began as an experiment in online learning, when Stanford instructors Sebastian Thrun and Peter Norvig elected to offer their "Introduction to Artificial Intelligence" course online to anyone, for free. Over 160,000 students in more than 190 countries enrolled.
The potential to educate at a global scale was awe-inspiring, and Udacity was founded to pursue a mission to democratize education. It would take several years of intensive iteration and experimentation to clarify our focus on career advancement through mastery of in-demand skills, but today, Udacity proudly offers aspiring learners across the globe the opportunity to participate in-and contribute to-some of the most exciting and innovative fields in the world.
Here are some Udacity Provider guide questions and answers:
2. How to sign up for Udacity
To sign up for Udacity, press the "GET STARTED" button on the top right.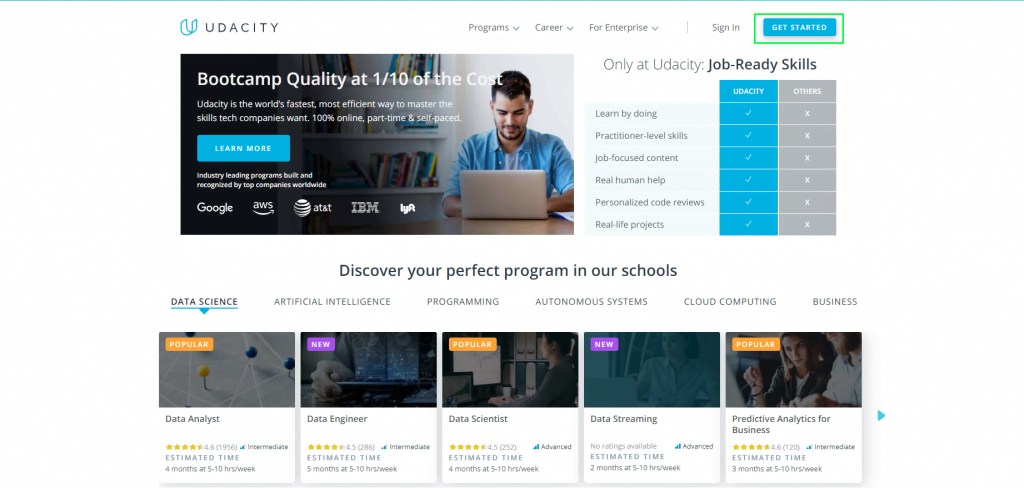 Then you will be redirected to a sign up page. You have 3 different options
Sign up with Google
Sign up with Facebook
Sign Up using your e-mail
Choose the option that is right for you, fill in the form and your account will be ready.
3. Does Udacity offer a mobile app
As of the time of writing, Udacity offers neither Android App nor iOS App.
4. What is Udacity's Nanodegree?
Udacity's Nanodegree is a program where you enroll, you complete successfully all the assignments/tests and then you claim a certificate. The goal of the Nanodegree is for the candidates to master skills that are essential to the industries, create interesting projects and in the end, earn a verified certificate.
After graduation, you will be able to elevate your career and be in high demand.
5. What is Udacity's Executive Program?
Executive Program is an industry-oriented program, for corporate leaders who may lack technical knowledge such as Artificial Intelligence and want to put it in use to gain an advantage over other competitors while making the right decisions.
6. Is access to a course for a limited time?
Regarding the Nanodegree and Executive Programs which started on May 1, 2019 or after, students who have enrolled will have access for 12 months after the end of the last billing cycle. The access will be static and will not include services such as quizzes or workspaces. Note that you will be able to download the content for personal use.
In addition, if you believe that you should have access to course materials but for any reason you do not, you can submit a request by visiting this page and choosing Static Content Access as Reason for Contact.
7. Are Udacity Courses Free?
Udacity offers both paid and free courses.
With regard to free courses, certificates are not available, but you will have access to quizzes and high-quality content.
8. Udacity Pricing
All of Nanodegree and Executive Programs require a fee to enroll. Usually the price is $399 USD per month. Udacity offers a discount (about 10%), if you choose to get access for the full duration of the program ( The full duration is the average time it takes for students to complete the program).
9. Refund Policy
Udacity allows students to cancel their subscription to a program and get a full refund, within 7 days from the first month's payment. For the European Union Citizens and Residents, the refund eligibility extends to 14 days.
Note that only one refund per Student and per Program will be accepted and the refund will not be accepted if a student graduates within the refund application window.
To find more information, visit Cancellations and Refunds.
10. Does Udacity Provides Certificates?
Yes, Udacity provides certificates for all Nanodegrees and Executive Programs.
11. Udacity Scholarships
Udacity offers Scholarships for Nanodegrees. As of today, 10 Scholarships have been initiated and 22.000 students have claimed the scholarship. In order to pursue a scholarship, you must complete an application which usually requires the following:
Background Information
Prerequisite Knowledge
Your Goals
Other scholarships may require other kind of information.
You can now apply for Nutanix® Hybrid Cloud Scholarship Program until 30 April, 11:59 PM PST and if accepted, you will be one of the 500 students who will take the program in May.
To find more scholarship programs and more information, visit Scholarships.
12. Are Udacity's Certificates Recognized?
Udacity Programs differ from others, as they are project-oriented and the projects have real deadlines. The certificate by itself doesn't mean much, but should you successfully complete a Udacity program, you will have a portfolio of projects which prove that you have acquired many of the demanded skills.
The employees will definitely consider a plus having a vast portfolio of projects and it will be an advantage in the job market.
That was the Udacity Provider guide QnA.
Sources:
[1]: Nanodegree 101: What is a Nanodegree program
[2]: How long will I have access to the program content after I graduate?
[3]: What is your refund or cacellation policy?
[4]: Udacity
That was a Udacity Provider guide.